Carlos Cordeiro has resigned his position as President of US Soccer, opening the door for Vice President Cindy Parlow Cone to take over.
I want to thank Carlos for his many years of hard work and dedication on behalf of U.S. Soccer," said Parlow Cone. "He is a good man with a good heart and his significant work to help bring the 2026 World Cup to the United States will have a positive impact for generations. The passion that has come to the surface in the past two days is what inspires me to look forward, to work hard towards mending relationships and moving the game forward for all."

https://www.ussoccer.com/stories/2020/03/carlos-cordeiro-announces-resignation-as-us-soccer-president
What played in large part a key role in Cordeiro stepping down was extremely offensive legal language that was submitted as part of the lawsuit from the USWNT team has laid against US Soccer. It specified that women were inferior to men in language that seemed from centuries ago.
"In legal papers submitted to federal court in Los Angeles as part of the USSF's defense of a gender discrimination suit by players on the women's team, the USSF asserted the women have lesser physical abilities and responsibilities than their male counterparts."

https://soccer.nbcsports.com/2020/03/12/us-soccer-president-carlos-cordeiro-resigns/
Under pressure from Sponsors and other members of the board Carlos resigned becoming the party at fault for the language. Immediately in the wake of the discussion is how quickly many are wondering how could it have gotten this far and who else in the organization knew.
I don't think this is the end of the changes that need to be made, in fact there may be a long list of those involved. Much like it was with Sunil Gulati only a few years ago many suspect the powers that were a huge part of advancing US Soccer are now also the hands that have held it back.
Board of Directors
Here is the make up of the board and some former agenda items I pulled out to show some examples of items discussed at the US Soccer boar d meetings:
Taking a look at past agendas and meeting minutes: https://www.ussoccer.com/governance/board-of-directors/meeting-minutes
I find it very challenging to believe that in these board meetings which often have presentations from the Chief Legal Officer and share specific legal language changes with the board that the language that caused the change for Carlos Cordeiro was never viewed until the public saw it and Sponsors, fans and media complained.
Here's an example "business items" from past board meeting, many board meetings Lydia Wahlke, Chief Legal Officer, gave updates. Gregory Fike, Staff Attorney, often gave additional presentations on follow up items including specific legal language or additional updates beyond the Wahlke overall Legal Update.
Below are a few pull outs from past meeting minutes showing the level of specific detail that is shared in these meetings in the legal language area.
Georgia's Soccer Dispute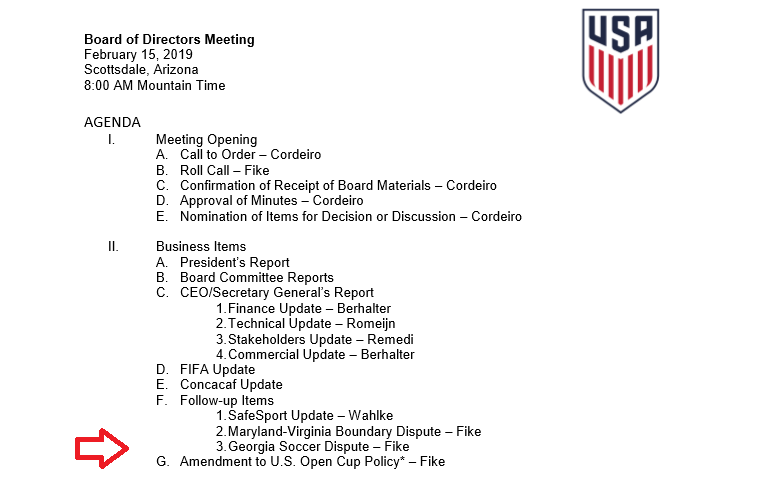 Policy Ammendment
The high level of specific text editing detail on these more minor issues above makes it very difficult for me to believe that the language in the Women's case was not discussed or presented. It was a year long discussion over a legal battle with significant financial impact to the US Soccer organization. It is extremely difficult to believe that the board didn't spend notable amounts of time invested in both strategy and language that would be presented in defense of the organization.
I look forward to hearing more in the coming days and hope that sponsors continue to pour pressure on the board to hold all involved accountable and I fully expect more apologies and resignations to be coming in the days ahead.