USSoccerChat is a USMNT Twitter chat focused weekly conversation from US Soccer fans that happens on Twitter every Thursdays at 12PM Eastern (EDT) we meet digitally in what is called a Twitter Chat.
We chat news and USYNT players, after game reviews, grades and results, tournaments including Gold Cup and World Cup and Nations League, roster selection and previews, what American players aren't getting recognition or have things to celebrate in MLS, USL and globally – Champions League, Liga MX, Premier League, Bundesliga and other European leagues and clubs, what is going on with USSF and so much more all around American soccer.
Weekly on Thursday 12pm EDT
Remember to use the "#ussoccerchat" on every response so we can follow along. I usually have that ready in a cut and paste so I can append it at the end of each message.
All fans are welcome to jump in and join us, Soccer Twitter is huge.
Think of it as a public virtual conference room for us to discuss USMNT topics each week. The primary discussion is between myself and Matty Knips (@underdogsp) and Chris Kerr (@kerrc17) from Underdog Soccer Podcast. Depending on the topic I have a call in advance with US Soccer to get some insights for the discussion.
I have an invite list – if you want to be added or want to invite your friends please do tag them @ussoccerchat1, it's an open forum for all. I usually post the topic for the week in the invite leading up to it.
How it Works
Example Topic: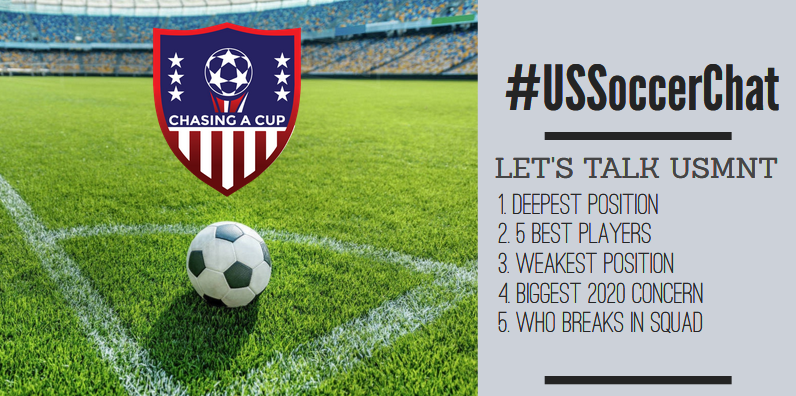 I tend to post as "Q1." or "Q2." and responders enter "A1." and "A2." for easy reading and following along. And again make sure to include "#ussoccerchat" as you're writing answers. You can even have it ready in advance so you can drop your answer and follow more easily.
Example Post:
Tweetdeck
I highly recommend Tweetdeck (It's a Twitter tool) for following it closely: Tweetdeck.twitter.com
You can create a notification including the hashtag #ussoccerchat to get all of the USMNT Twitter updates.
Here's a great link from Social Media Today with more information how a Twitter chat works and how to stay involved:
https://www.socialmediatoday.com/news/how-to-participate-in-a-twitter-chat/546805/