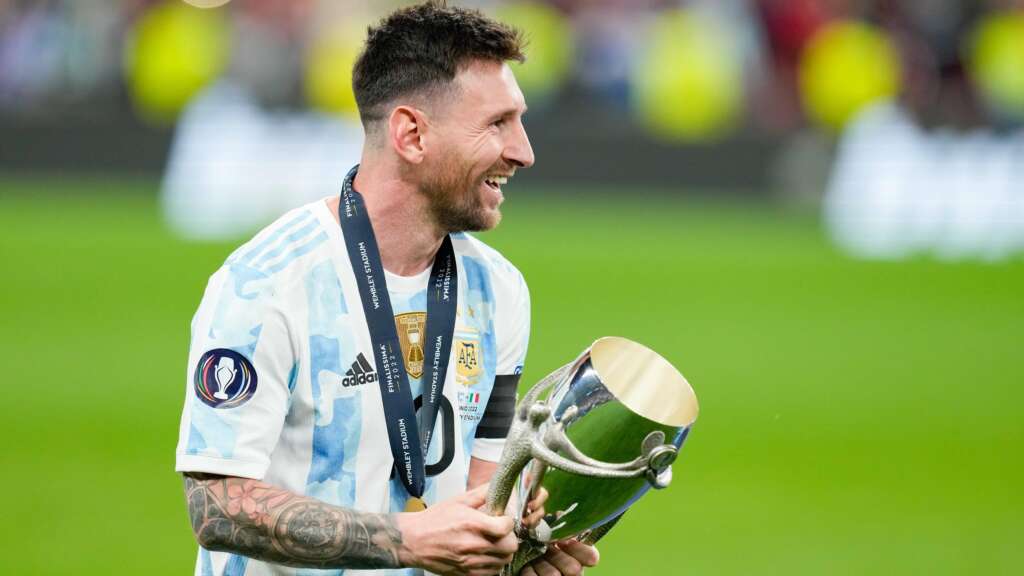 Argentina | Elo: 2 | FIFA: 3 |
History: With a tie against Ecuador in the last round of 2022 CONMEBOL World Cup Qualifiers, the Argentines were confirmed as invincibles. 2-time champions, 5-time finalists, and beneficiaries of two players often debated as the greatest in the history of the sport, even La Albiceleste tend not to look this good.
Formed at the start of the 20th century, the Argentina men's national team opened its account with a bang. The first World Cup went mostly the same, but Uruguay would take revenge, coming from behind to deny La Albiceleste an inaugural triumph. Argentina withdrew from the next three tournaments, instead dominating regionally: In the 10 South American championships that took place during this self-imposed exile, Argentina failed to reach the final once.
La Albiceleste returned to the World stage in 1958. They returned to the final 20 years later where they defeated the Dutch to hoist their first Jules Rimet. 8 years on, Maradona would lead Argentina to another triumph in Mexico, scoring 5 and setting up a decisive tally against Germany in the final.
In the 40 years after Maradona's courtship of the divine, Argentina reached 3 World Cup finals, twice facing the Germans, and lost all of them. Since Messi's emergence, La Albiceleste has lost 3 continental finals, and the aforementioned decider for the 2014 Copa de Mundial. On the back of the game's greatest player, Argentina built a decade of heartbreak.
And then they won. And then they did it again.
And so arrive the Argentines, on the crest of a tsunami. Can the champions of South America become the champions of the world?
Expected Finish: 1st
Why?
Argentina are the champions of South America, have a case as the best team in the world, went undefeated against a notoriously difficult set of teams and fixtures, and are about to break the record for most games played without defeat.
They have the best players, are playing at a historically high level, and haven't failed to advance in 20 years.
Why would you pick against them?
Why not?
La Albiceleste face an injury crisis. That shouldn't matter for the group stage, but it may prove costly in later rounds.
Key Players
The world's most popular pick for "greatest of all time", Lionel Messi is in-form again. The gold-standard of creation, progression, and scoring at his pinnacle, Messil's impact on Argentina's ability to win has been massive. Now on the wrong side of 30, La Pulga is not as influential as he once was, but it's still hard to see Argentina winning everything without some magic from the sport's preeminent magician.
Lautaro Martinez is making his case as one of the best attackers in the world. Highly prolific for club and country, Martinez's combination of elite chance creation and goal-scoring has proven quite valuable to La Albiceleste. As the sun sets on Lionel Messi, the 25 year-old from Inter-Milan may prove to be a lynchpin for this team, both in Qatar, and beyond.
Mexico | Elo: 22 | FIFA: 13 |
History: And now we log another entry in the quest for quinto partido. A populous soccer-mad country with a strong domestic league and money to throw around, Mexico should be a powerhouse. Instead, El Tri is merely good.
2-time World Cup quarter-finalists, 13-time World Cup qualifiers, perennial group-stage progressors, and the only team outside of Europe and South America to win a major FIFA tournament, Mexico have a strong case as the best of the rest. Yet, that mantle seems hollow given how far El Tri lag behind the best of the best,
Mexico first graced the world-stage at the inaugural World Cup in 1930. 3 games yielded 3 losses. To reach the 1934 edition, Mexico faced future arch-rivals USA. Mexico lost. After the second World War, Mexico emerged as the power in CONCACAF going perfect in qualifiers to reach the big dance in 1950 and 1954. From 5 more games, El Tri yielded 5 more losses. Mexico finally yielded a point in 1958. In 1962 they went a step further and yielded a win. As hosts in 1970, Mexico yielded progression from the group-stage,
Success at home did not translate abroad with Mexico failing to qualify in 1974 and 1982 and going pointless in 1978. Fortunately, Mexico was, once more, awarded the right to host in 1986. El Tri capitalized, winning their group before notching their first, and only, knockout-stage win.
Unlike 1970, 1986 represented a permanent level-up. Mexico would host and win the confederations cup in 1999, reach the finals as invitees for two Copa Americas, and would consistently qualify for, and advance in, every World Cup where they weren't banned for cheating.
With that we reach our status quo. Can El Tri buck history, or will they leave the way they've always left since 1994.
Expected Finish: 2nd
Why?
History tells us they'll advance and I don't see much to suggest Qatar would go differently. Mexico have qualified the way they usually do, have a talent pool similar to what they've had before and on par in terms of player quality with Poland while ranking higher on the basis of performance.
You'd be hard-pressed to find something Saudi Arabia compares favorably to Mexico with.
While Mexico hasn't made the strongest case this cycle, in the absence of compelling counter-evidence, I'm going to bank on history.
Why not?
Mexico hasn't looked great in recent friendlies, and there is a sense in Mexican fandom that the wheels are falling off. Mexico also technically grades out a bit lower on the talent front than Poland per TMV and WCDCS, and that may undersell the gap given the importance of strikers relative to other positions. Mexico simply has no equivalent for Lewadowski.
Raul Jiminez, formerly the centerpiece for El Tri, has not looked great since coming back from a life-threatening injury.
History is a guide, but it's not a guarantee.
Key Players
Ajax Starter Edson Alvarez has emerged as Mexico's best player in a cycle where various key pieces have found themselves in bad form. A strong defender and a capable playmaker, Edson will be critical for a successful campaign.
Hirving Lozano is currently Mexico's best attacker and a critical piece for a Mexican side that focuses the brunt of their offense down wide. A regular for a Napoli side that is comfortably leading Serie A, Lozano is goal-dangerous, a strong crosser, and a hard-working defender.
Poland | Elo: 21 | FIFA: 20 |
History: Do not forget Poland. Despite their current reputation as perennial underperformers, Biało-czerwoni were the surprise of the 70's and 80's. A shock victory against football's founders sparked a golden era that many countries could only dream of: Poland qualified for four straight World-Cups, escaped the group-stage at three of them, and became one of fourteen teams to reach two semi-finals via 3rd place finishes in 1974 and 1982.
That success has not been replicated. In the 30 years that followed, Poland have reached only 4 finals, all of which ended with the Poles getting grouped. Biało-czerwoni's best approximation of success came at the 2016 European Championship with a quarterfinal exit. In two other European campaigns, the Poles were promptly grouped.
2018 was particularly disappointing. With one of the best forwards in the world in the middle of his prime, Poland managed to win enough, and avoid enough friendlies, to be ranked top 8 FIFA, thus entering the World Cup draw in Pot 1. After gaming the system to secure an easier group, Poland were immediately eliminated 2 matches in. Akira Nishino thought so little of the Poles that Japan played a "B-team" in a match where everything was on the line.
Poland will look to do better in Qatar, with a win against Sweden granting them, and Lewandowski, a chance at redemption.
Can Poland conjure the magic of the 74? Will Lewadowski deliver? Or will Poland, once again, disappoint?
Expected Finish: 3rd
Why?
Poland has the misfortune of being grouped with Argentina, possibly the best team in the world, and Mexico, a team who simply do not go out in the group-stage. Even if we ignored that, it's not clear to me Poland is significantly more talented, or in better form. Lewandowski is a great equalizer, but is he enough?
Poland is the 3rd ranked team in this group by Elo, and FIFA, and has the third best track-record in terms of recent performance.
Maybe Lewandowski upsets the apple-cart, but 3rd place seems right to me.
Why not?
Lewandownski has a case as the best scorer of goals on the planet, Poland do seem to have a marginal talent advantage by my chosen metrics, and that gap is probably undersold when we consider strikers having greater importance relative to other positions.
Poland also swept Wales in the most recent nations league, and Mexico have looked bad in recent friendlies.
Poland breaking through here wouldn't surprise me.
Key Players
To many, including Messi, a player worthy of the ballon d'or, Robert Lewandowski is maybe the best goal-scorer in the world. With a staggering 76 goals in 134 Poland appearances, the ex-Bayern superstar will be desperate to tally one in the World Cup. If Lewa is on, Poland has every chance to do something special here.
Piotr Zielinski is having a phenomenal 22-23 thus far, with 5 assists and 3 goals in 15 Serie A games to go along with 3 goals and 2 assists in 6 champions league matches. An excellent chance creator who with an eye for goal, Zielinski is key for getting the best of Lewa, and if Lewa should fade, it will probably be up to the Napoli star to pick up the slack.
Saudi Arabia | Elo: 26 | FIFA: 19 |
History: Here fly The Green Falcons. Formed in the 50's after a match pitting a collection of club players against the Egyptian Ministry of health, the last 40 years have constituted a golden aeon for Saudi Arabia soccer. The falcons have reached 6 of the last 8 World Cups, finished 2nd in the 1992 Confederations cup, and became the first team from the Middle-East to progress past the group phase after shock wins against Morocco and Belgium.
Saudi Arabia got started quickly. Having never participated in a full qualification tournament, the falcons had a proper debut in 1984 where they easily qualified… and then won. And then won again. Saudi Arabia would go on to make 5 consecutive Asian Cup finals, winning three. From obscurity to glory, the debutants had delivered a dynasty.
Having never put together a winning record in qualifying, The Green Falcons went undefeated to reach the 1994 World Cup and went on to reach the next three after that.
The falcons have a knack for surprise. Pegged to finish bottom in 2018, the Saudis recovered from a 5-goal whopping at Russian hands, to play Uruguay close and then upset the Egyptians. By topping a group with Japan and Australia, Saudi Arabia has earned the chance to surprise us once more.
They've already been dismissed, obituaries pending. Can the falcons prove us wrong?
Expected Finish: 4th
Why?
Saudi Arabia has not progressed in nearly 30 years having managed only 3 wins in 16 outings. They're grouped with 2 teams that always make it, and are both the least talented, and lowest ranked side in this group.
While topping a group with Japan and Australia is fairly impressive, Saudi Arabia's regional success has historically not translated as well abroad in the same way it has for a team like Mexico. This may be a result of how Saudi Arabia plays. The falcons like to possess the ball and build attacks gradually. This may work disproportionately well in Asian qualifying with opponents who are less talented or prefer not to press high. It's not hard to see this backfiring against their group-mates.
While it's foolish to count them out entirely, it's hard to argue they should be favored.
Why not?
History is a guide, not a guarantee. Taken as it is, one could construct the case that what the falcons did in qualifying is more impressive than what we saw from Poland or Mexico.
Additionally, familiarity is usually an advantage. Saudi Arabia's team all plays in the same league which might offer an advantage in terms of chemistry and cohesion.
They're underdogs for me, but dismiss The Green Falcons, at your own peril.
Key Players
Capable with the ball at his feet and an excellent positional defender, Mohammed Alburayk is a lynchpin for the falcons. With two AFC Champions League wins, 5 Saudi Professional League wins, 2 top 4 finishes at the Club World Cup, a combined 13 major trophies in 9 years as a pro, and a spot in the IFFHS "AFC Team of the Decade", Alburayk is a giant in Asian football. With his ability to erase mistakes, and contribute in build up, Mohammed is particularly valuable for a Saudi side that likes to build slowly using positional overloads out wide.
Salem Al-Dawsari is Saudi Arabia's most important attacker. Both the falcons' primary creative hub as well as their biggest goal threat, it will probably fall on Salem to conjure up that little bit of offense Saudi Arabia will need to survive.
Predicted Group Standings
| | |
| --- | --- |
| 1 | Argentina |
| 2 | Mexico |
| 3 | Poland |
| 4 | Saudi Arabia |
For more info on the methodology click here.
Group Previews: